MOSAIC ART
in one of the most charming and lively neighborhoods of Rome historic centre, Fabio Bordi handcrafts beautiful mosaics with traditional cutting techniques.
Every piece is entirely handmade with a careful choice of the finest materials, including polychrome marbles, venetian enamels, glass and gold tesserae.
Read more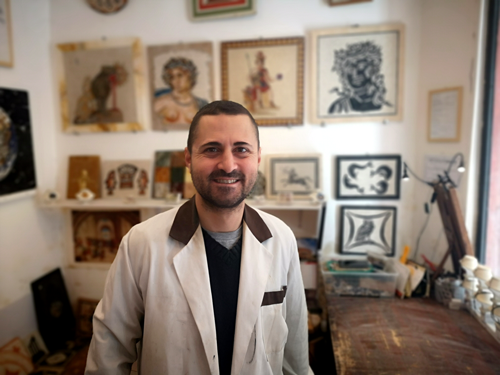 Our Services
We care about our customers.

Custom Mosaics
Choose your design, colors and materials

Restoration
For public institutions or private customers, directly in the site or in studio

Mosaic Workshops
Learn how to make a mosaic with millenia old techniques

Technical assistance
Design planning, mosaics installation and technical support

Site inspection
Site inspection in Italy and abroad

International shipping
Shipping to any destination in the world
Our latest commissioned mosaic projects
Uniqueness that distinguishes hand made work