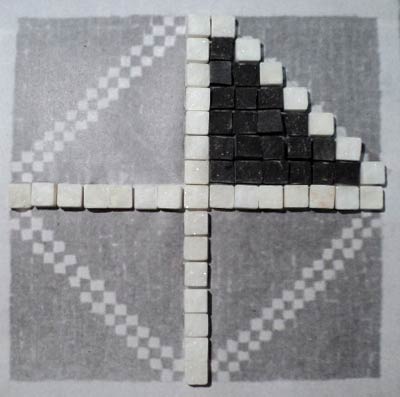 MOSAIC-MAKING WORKSHOPS AND COURSES IN ROME
About our courses
Fabio Bordi Artistic Mosaic Studio offers tailored mosaic making courses for all ages and skill levels.
Under the guidance of a master mosaicist, participants learn how to design and create beautiful mosaics with traditional cutting techniques.
At the end of the course, participants are welcomed to bring home their own mosaic.


Why Choose it?
• Enjoy an entertaining and educational experience suitable for kids and adults alike.
• Learn millennia-old techniques under the guidance of a fun, kid-friendly teacher.
• Create the perfect souvenir for your time in the Eternal City.
• Have a great hands-on experience in a welcoming atelier just a few minutes away from Piazza Navona


Where?
You can find us in Via di Panico 75 00161. The studio is just a few minutes from Piazza Navona, in one of the most charming and lively neighborhoods of the city.
The Studio is itself a place of beauty. It is hosted in an ancient building and has walls covered in shelves with mosaics and artists tools.


When?
The Studio is open every day from 10 am to 8 pm (Sunday closed).
You can book individual or group courses. Workshops and courses dates are flexible. Just pick the day or the time of day that best suits you.


What's needed?
The Studio is well equipped and all materials such as mosaic tools and tiles included.


MOSAIC WORKSHOP FOR BEGINNERS (2 hours)
Spend a couple of hours learning the ancient art of mosaic making! The result of your own handmade personal mosaic will surprise you, just as much as it will surprise your whole family and friends!
This workshop is a 2 hour practical introduction to Roman mosaic techniques; it is suitable for beginners and for those with some experience.
Under the guidance of a mastered mosaicist, you will learn how to use mosaic tools and what adhesives and materials to use.
You will go throughout the process of making a unique mosaic – 20 cm x 20 cm in polychrome marbles – that you will take home with you.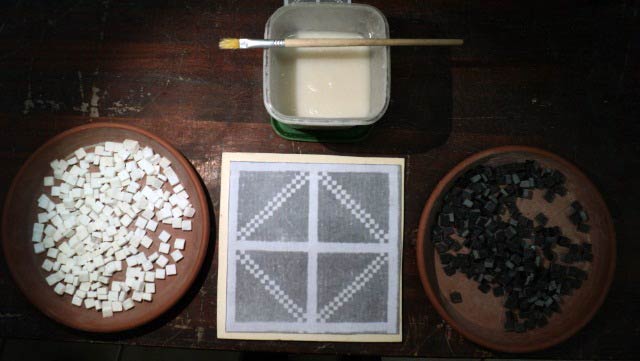 A FOUR-DAY INTENSIVE MOSAIC COURSE (12 hours)
Upgrade your basic skills to a professional level with this intensive 4-day workshop (12 hours).
Here, an experienced mosaicist, specialized in the different techniques and expressive languages of mosaic making, will provide you with full assistance in realizing your own and unique piece of mosaic-work.
The comprehensive program includes historical notions, textural techniques, techniques of assembly and installation, cutting and chromatic composition aiming to generate an efficient process at both beginners' and advanced levels
Individual courses can be tailored. This gives students an opportunity to work on their own projects or deepen their knowledge of specific areas or techniques.

In the first course, students learn how to create black and white geometric mosaics with big tiles (1cm)

In the second course, students start to work on colored figurative mosaics with smaller tiles (0,3cm-0,5cm)

From the third course onwards, students work on more complex polychrome mosaics and can deepen their knowledge on a specific topic (Roman mosaic, Byzantine mosaic, Church mosaic, Modern mosaic, ecc)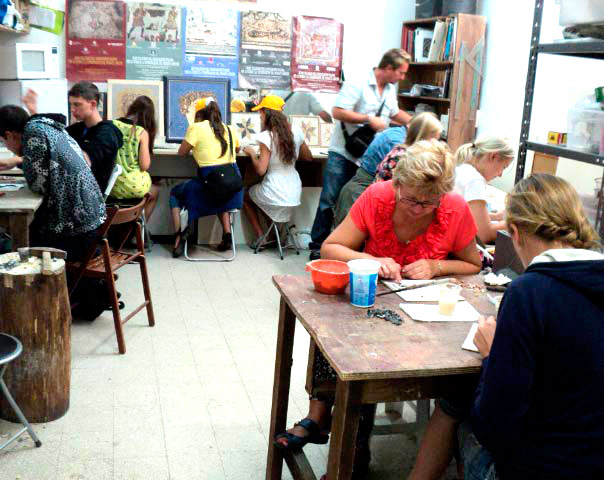 KIDS MOSAIC WORKSHOPS (2 hours)
Arts and crafts classes are a fantastic way for the kids to explore their creative talents, get messy outside of the house, and take some time off from using iPads and other gadgets!
Under the guidance of a fun, kid-friendly teacher, kids learn to play with shapes and colors, patterns and materials.
Each child will make their own mosaic and go home with their own unique creation.
Creative, but also lots of fun!




Fabio Bordi Artistic Mosaic Studio
Via di Panico, 75 00161 Roma
Tel. + 39-3471883124
Email: fbordi2@gmail.com
For bookings and inquiries, please leave a message. I'll come back to you shortly. Thanks!