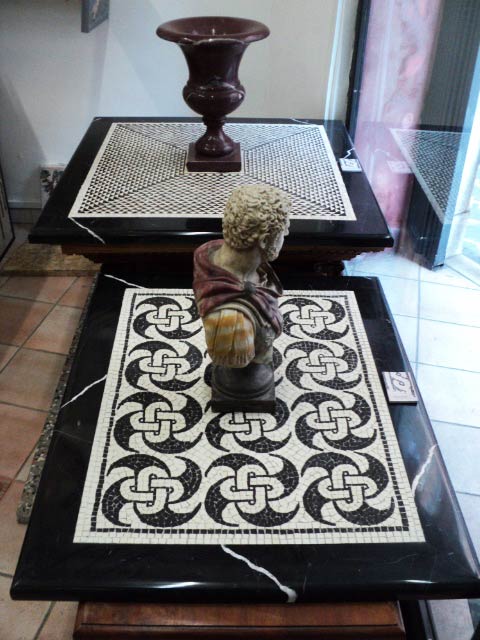 HANDMADE MOSAIC TABLES
Fabio Bordi Artistic Mosaic Studio designs and crafts mosaic table tops for indoors and outdoors.
Mosaic tables are ideal for gardens and terraces but can also add an incredible charm to your interior spaces.
Our table tops are made with mosaic tiles, fine micromosaics, semi-precious stones, rare and ancient marbles and
cosmati
or
pietra dura
inlays.
The tables' structure is realized with marble, wrought iron or wood.
We select only the finest materials and our work is truly artisanal.
Customize your mosaic table top
Our tables are made on customer request and can satisfy every type of need: round mosaic tables, small mosaic tables, small mosaic garden tables, etc.
Over the years we've worked on many projects for a sophisticated clientele.
Mosaic table tops can satisfy different settings and there's a style for everyone: moroccan mosaic tables, mosaic bistro tables, mosaic patio or bistro table, etc.
Mosaic table tops designs
Mosaic table tops are an easy way to add incredible style to your indoor or outdoor spaces.
. State of art mosaic making techniques and unsurpassed cratmanship allow us to create beautiful table tops, not matter how complex and elaborate the design is.
Geometric, patterns and shapes, black and white, floreal or animal sublects, etc Whatever is your taste, we can do it!
Our designs can be sized to fit your tabletops, allowing you to utilize mosaic artwork on virtually any table, large or small.
Where do we start?
The process of customizing your mosaic table top starts with a free consultation by email or phone to discuss your needs.
You can send us a drawing or a picture of the table top you would like to realize, but if you need assistance: we are happy to help!
We can provide you with small and large sketches, in color or black and white, and advises about the choice of the most suitable materials.
Once the materials, scale and intricacy of the design are agreed, we can quote the work for you.
That's it, it's easy!
Payments and shipping
We accept credit card payments through the Paypal circuit and bank payments. Please note that it's not necessary to have an account to paypal in order to proceed with the purchase: simply select paypal as the payment method and then select "you do not have a paypal account, pay with your credit card".
We proudly offer shipping to any destination in the world. Shipment costs are calculated on weight, size and destination. We rely on express courriers (Fedex, UPS, TNT, etc) for international shipments. To learn more about our shipment policy:
click here
.
Searching for a Mosaic Maker?
To get a quote or for inquiries, please leave me a message. I'll come back to you shortly. Thanks!